The Classics


Spad's first incarnations, which have one thing in common: Simple square gutterpipe fuselages with or without landing gear. Some of our most popular designs are found here!
Spads On Rails


Simple and durable, the alumnium rail fuselage is a great choice when PVC gutterpipe is hard to find, or even when it's not!
Scale


Here you will encounter fun-scale Spad warbirds guaranteed to turn heads at your field. The building requirements are more advanced, but well worth the effort.
Misc.


A few plans/diagrams of quick simple solutions to common Spad tasks. Some great tips here!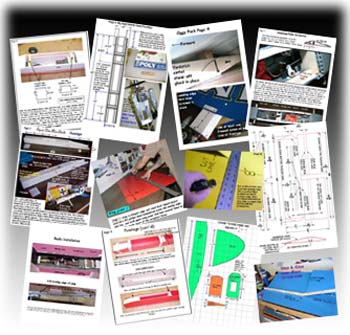 Here they are, a vast and impressive collection of Spad plans devised and built by the originators of the Spad concept, and a few others chosen for your enjoyment. Before embarking on building your first Spad, please visit all other areas of our web site, and do as much research into the subject as you can stand before diving into the building process. Though extremely simple, there is a learning curve to Spad construction, so patience and practice are the key! After that, it will become second nature, and you'll wonder what all the fuss was about. Remember, these plans are FREE, and are offered as a courtesy, subject to your own personal modifications and adjustments. STTB does not make any guarantees of success. Also, please carefully read our disclaimer. Enjoy!
Trainers


These Spads are perfect for training, with flight characteristics equal to those of ARF trainers. Beginners, please enlist the help of a qualified instructor to help you build and learn to fly your Spad!
Stick Series


The .40 size SpadStick, and the 1/4 scale UltraSpadStick, are masterpieces of Spad design and performance for you sport flying fans who crave a good looking model.
3D/FunFly

With the introduction of the Qhor, and eventually the Spa3D and it's variants, Spad took the 3D world by storm.
Beyond STTB


Finally, some of the more popular non-original Spads, now offered here for your convenience.
Having trouble Printing?

NEW! Click here for instructions on printing up a set of Spad Plans without the dreaded right-side cutoff.